Pink 2 Tone Leather
Dog Leash and Matching Collar with Tag Small
Khaki Signature W/ Hot Pink Leather
Small Leash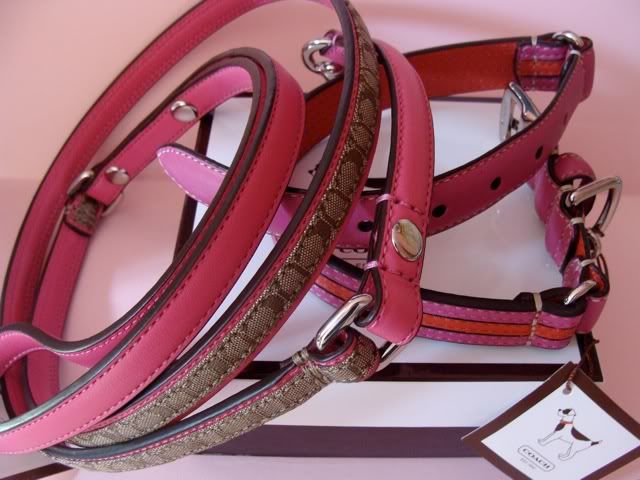 DOGGIE COUTURE
For Nice Dogs Who Like Stuff



So give your Doggie a Pink Coach Treat
Authentic New Coach Pink and Signature C Dog Leash size Small
#4005
and Collar #60143 in 2 tone pink leather. It has silver hardware and comes in Coach Doggie Box and Coach Tag attached.

2 Tone Hot Pink Leather Dog Collar Style # 60143

* Hot Pink Leather
* Nickel Hardware
* "Coach" Dog Tag
*Size Small 11"-13" with 5 holes for adjustable size. ( I suggest you measure your doggies collar and neck for proper fit)
Signature C Khaki with Hot Pink Leather Dog Leash Style # 4005

* Khaki Signature C Jacquard Fabric
* Hot Pink Leather backing and trim
* Nickel Hardware dog Leash clip
* Size approx 50"
So Cute and adorable for your doggie to look SO Coach Stylin with you when you go out to the Dog Park, Shopping or for Coffee. And what about to DOG BEACH COUTURE. Now you know they want to be oh so Chic too.