Betsey Johnson Will Release New Perfume
beauty news
Courtesy of INFDaily.com
.
Yippee!
Queen of fun and fashion, Betsey Johnson, is working on redeveloping her signature '80s perfume to release to the masses. Since very few of us got our hands on it the first time, it's going to be awesome... especially since Betsey's making some cool claims about the scent.
I might be biased about the perfume, since Betsey's an alumna of my uni (Syracuse) and has always been on my radar. Hear me out, though--she's pretty darn cool and revamping that boutique-only scent wasn't easy.
The fragrance from the '80s was copied very closely, Betsey explained, after news of her joining forces with Inter Parfums hit. On top of the copied scent, it sounds like cosmetics and a wider perfume collection will soon be coming our way.
"The agreement runs through 2015 and covers sales to Betsey Johnson stores, both in shops and online. There is also a licensing component that lets Inter Parfums sell the products to specialty and department stores," the Associated Press reported this week.
Betsey Johnson Taps the Past For a New Scent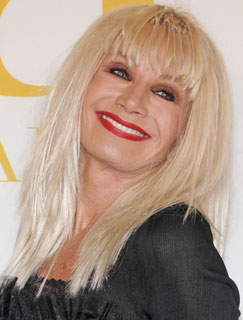 Betsey also promises that "It ain't gonna be au natural, sweet, foodlike — like chocolate — [or] patchouli." And she declares that it will bring the menfolk a-running. "If I don't get compliments [on a fragrance], if guys don't like it, I throw it out the window," she says. If you're curious to see what this nonsweet honeytrap of a perfume smells like, it'll be out in Betsey's boutiques and online next month. What do you think? Do you like the idea of this retread, or do you think Betsey should have covered some new territory?
A special note from ME (Jennifer) I was told today from a source at Betsey Johnson it is possible the Scent from the Past to be released soon will be a limited run and then replaced by the new fragrance launching next year. Just passing on what I have heard but Hmmmmmmm maybe this means we should all scarf up the Vintage Fragrance as it wont be around for long WINK!