Fashion Drama Queen Strikes again.
Here is the latest news on Idol from Last night via People.com. Check it out!
March 5, 2010
Idol
Picks Its Sweet 16 As Four More Go Home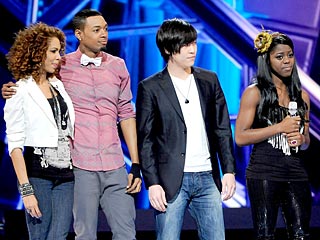 Of the four eliminations on Thursday's results show, the biggest upset — the only upset — was Didi Benami getting to stay, and Michelle Delamor being shown the exit. I wasn't crazy about either of their performances on Wednesday's show, but the judges had definitely preferred Michelle's risk-taking with Creed's "With Arms Wide Open." Didi's "Lean on Me" had been trashed so thoroughly she almost cried on stage.
But
Kara
, just before
Ryan
revealed this little twist, admitted that she'd rewatched the performances — and realized Michelle hadn't been so hot, either. "I think you may be in jeopardy," she said. I also wonder if Didi's sad but quite beautiful smile after her critical drubbing (plus a consoling hug from Ryan) earned her some sympathy.
Haeley Vaughn
, 16, was the second girl to be eliminated. She was adorable, but too inexperienced to be a pop princess.
Among the guys, who
performed Tuesday
, first to go was
John Park
, who told Ryan his happiest memory was his encounter with a playfully flirtatious
Shania Twain
back in the auditions. His voice just never settled into any workable groove, and his presence was ungainly.
Second:
Jermaine Sellers
, who certainly had a groove but not necessarily the right one. He left still insisting that his falsetto style was rooted in church-singing, as if this ought to have changed things. He was a rather puzzling contestant, bowtie included.
Overall, I was most pleased to see
Paige Miles
declared safe. The judges should have been more generous with their praise for her version of
Kelly Clarkson
's "Walk Away."
One very interesting point:
Simon
, like Kara, said he wished he had withheld some of his compliments for the girls from Wednesday's show. He refused to say anything further. He may have meant Michelle, too. Or could he have meant …
Siobhan Magnus
's high note?
Idol
grad
Danny Gokey
, looking like a much more upbeat
George Michael
, sang a single called, "My Best Days Are Ahead of Me."
Ryan said it had a country sound — THAT was country?
–Tom Gliatto
Tell us: Did the right four go home on Idol? Who is your favorite guy? Who is your favorite girl?
F Micelotta/American Idol 2010/Getty
http://tvwatch.people.com/2010/03/05/idol-picks-its-sweet-16-as-four-more-go-home/